In this blog, we will talk about apprenticeship programs in the hospitality industry. And our focus will be on the latest trends in the apprenticeship programs in this industry.
Apprenticeship programs are initiatives to introduce candidates to the actual job world. These programs give the learners the scope to in-hand professional experience. Apprenticeship is a tried-and-true way to cultivate a highly trained workforce that is customized to the hospitality company's specific skill requirements. So, it is essential to keep an eye on how apprenticeship programs are evolving. And we will do this in the context of the hospitality industry.
This leads us to the theme of our blog:
"The emerging trends to watch out for in the apprenticeship programs offered in the hospitality industry."
Looking for Jobs Abroad in Hospitality Industry? Look for Apprenticeship Programs
The hospitality industry needs skilled candidates with in-hand job experience. The right apprenticeship programs can offer the correct dose of exposure to hospitality jobs. This can help candidates land global work opportunities in the hospitality industry.
The hospitality industry has remained a popular choice among potential candidates. This industry has topped the chart in recruiting young people. Yes, you read that right. Even during the Covid-19 recovery phase, this industry has hired young people under 30 across the UK. This is just one example. But the trend is similar across the globe.
There is no doubt that there exists a gap in the demand and supply of skilled hospitality staff. It often gets challenging for hospitality businesses to hire suitable candidates. Here, we are talking about candidates with the right mix of education, skills, and training.  However, hospitality businesses often need more skill sets, but there is a solution to this issue- apprenticeship! Nothing can offer the aptest solution to skill shortages than hospitality apprenticeship programs. These programs help apprentices gain the opportunity to expand their skill set. These initiatives provide apprentices the chance to broaden their skill set.
Emerging Trends in Apprenticeship Programs for the Hospitality Industry
Apprenticeship programs are the best ways to connect apprentices with potential employers. And to do this, the programs offered by this industry are ever-evolving. The training providers work towards keeping their modules up to date as per emerging trends.
So, here are the top 5 apprenticeship trends in the hospitality industry. These trends are here to address demand-supply problems in this industry and will continue to be prominent in the coming years.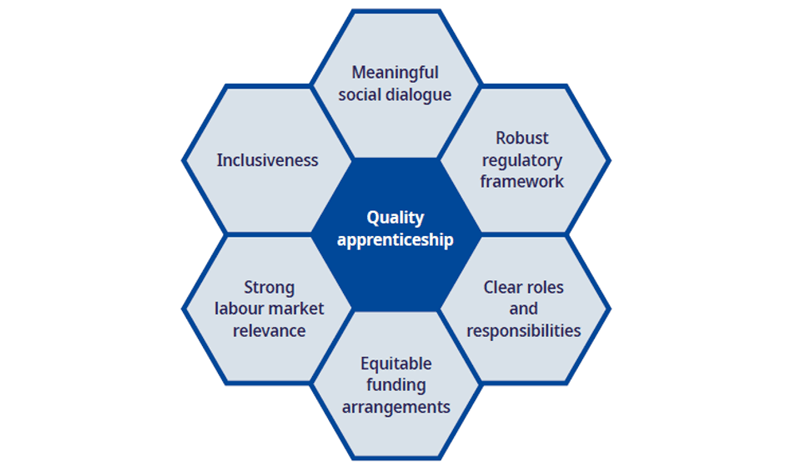 Professional networking has innumerable advantages. Whether seeking new career horizons or pursuing apprenticeship programs, networking may be a powerful tool for them.
A network between stakeholders and apprenticeship providers offers better on-the-job training to candidates. So, hospitality apprenticeship program providers are increasingly focusing on networking. This trend can be seen in countries like Germany, New Zealand, and the UK. In these countries, hospitality enterprises, local leaders, and the federal government collaborate to create community-driven skills training projects. According to a report published in BW People, about 41% of companies are interested in recruiting apprentices (in 2021). In this context, the tourism and hospitality industry made the most significant post-pandemic rebound, with a 34% increase in apprentice recruitment.
In the post-pandemic period, "flexibility" is becoming the new normal. As a result, various apprenticeship programs have welcomed this tendency. Flexibility in hospitality apprenticeship programs can be achieved in many ways. Apprentices are offered full or part-time training based on their past job experience and skill needs. Also, using e-learning platforms in rural and semi-rural regions is encouraged. This has allowed apprentices to engage in vocational programs from the comfort of their homes.
There is already a trend of investing in upskilling existing hospitality staff/businesses. Apprenticeship programs aimed at upskilling candidates place a premium on teaching new skills. This is especially true for those who are already working in this industry and are looking for an upgrade. As technology spreads like wildfire, the hospitality industry is coping with stay up to date. As a result, more apprenticeship (upskilling) programs are introduced that teach digital skills. Training is given on dealing with websites and mobile applications, comprehending AI, automation, and so on.
Programs for Hospitality Entrepreneurs
Apprenticeship programs target not just students but also entrepreneurs in the hospitality industry. This trend will continue to expand, as it will assist small hospitality firms in obtaining the necessary hospitality training opportunities and growing their operations. In India, for example, the Ministry of Skill Development & Entrepreneurship, Airband, NSDC, and THSC have collaborated to establish an authorized skill development module for hotel entrepreneurs. The program's goal is to instruct on housing, homestay facilities, and other topics.
Right Course for the Right Vertical
Apprenticeship programs do not mean to train apprentices only. It entails explicitly offering the most up-to-date courses to the trainees. The apprenticeship program offering institutes can pair with the right employers to offer the suitable training module for the exemplary hospitality vertical- housekeeping, front desk, kitchen, etc. This trend is largely followed to enhance the synch of skill supply and demand. A link between the skills needed and the proper training can propel career opportunities in the hospitality industry to new heights.
Key Takeaway
To keep up with the global hospitality trends, apprenticeship programs are developing. These programs are dynamic, as they embrace emerging changes to be up to date in the market. They incorporate emerging trends to keep themselves at par. If you are searching for the right apprenticeship program in the hos This organization not only assists individuals in finding appropriate apprenticeship programs and helping them settle overseas but also enables employers to earn revenues from apprentice employment.