Looking for ways to make a mark in the retail career path? We have created this guide to the steps to become successful in the retail business.
How to make a successful Retail Sales Career in India?
We are being encircled by retail establishments more and more as a result of the idea of "consumerism." But, although we may not realize it, every time we buy something from a store, we become a part of the "retail business," of course as customers. But in this post, we'll examine the retail sector closely from the perspective of prospective employees rather than consumers.
This post focuses on careers in retail sales and the steps needed to build a prosperous job in this field. So let's begin with a thorough understanding of the Roadmap to create a successful career path in retail sales.
Is Retail as a Career Path Good In India?
After completing your basic education, you start looking at career paths that would allow you to advance professionally. And then, the thought of pursuing a profession in retail sales comes to you. But one of the central questions to hit your mind is, "is this career path the right one?"
Globalization has altered the retail market landscape. It is currently one of India's most thriving industries. The rise of shopping malls, large department stores, and even e-commerce has fuelled the retail industry's growth. On the one hand, when we are witnessing the concept of "Make in India" products being promoted and sold, we also see foreign brands investing in our country. Consequently, a job in this field portends a bright future. And the highlight is that there are numerous online degree programs that you can pursue from the convenience of your own home.
Let's now discuss the current retail industry trend in our nation. Without a doubt, the Indian retail market is booming. Business Standards reports predict that by 2027,  this industry will be worth $150 billion to $170 billion. This suggests annual growth of 25% to 30%, which is undoubtedly impressive. In a further analysis titled "How India Shops Online 2022," it was noted that in the next couple of years, India would overtake the US as the second-largest shopper base.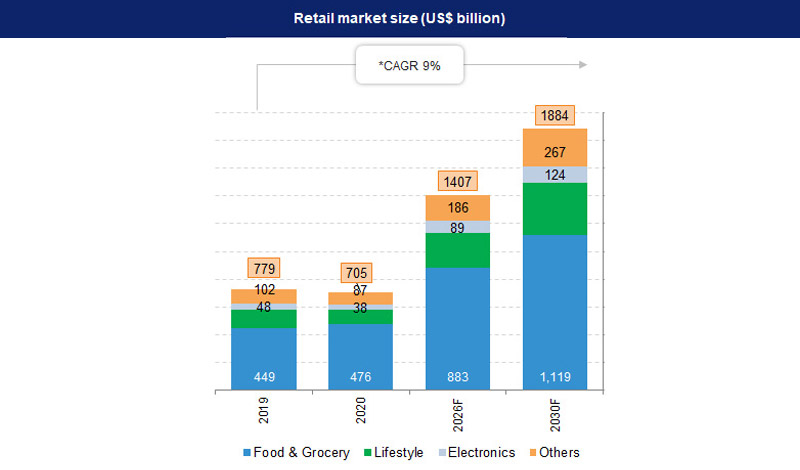 Image Credit:Retail Market Size (US$ Billion)
The figures above indicate that the Indian retail industry will require talented and skilled personnel to support its expansion. Therefore, pursuing a career path in this field will be quite profitable.
Career Paths in Retail in India
Here are some possible retail career paths before we discuss how to build a successful career in the industry.
Retail sales associate
Retail sales development representative
Retail sales consultant
Customer survive associate
Cashier
Visual merchandiser
Product developer
Brand manager
Warehouse manager
Store manager
Marketing executive
Supply chain manager
Retail store owner
Analyst, and so on
4 Steps to Make a Successful Retail Sales Career in India
Have you already considered a career in retail sales? The top 4 major steps you can take to realize your ambition are listed below.
 1.Training
The first and most important step toward a job in retail is to get properly educated and trained. However, other experts believe that job experience is more important than formal education in this field. Retail and category intricacies can be learned on the job. However, we cannot deny that appropriate training boosts your confidence and provides you with entry-level knowledge to begin your career in this field. After all, you need to understand the foundations before moving on.
 2. Interpersonal skills
Education and training can offer you theoretical understanding. However, specific talents must be developed to shine in the retail business.
a.Communication
When you go shopping, you've probably noticed that a good communication line between the buyer and the seller is vital. So, the first skill to develop is communication. Retailers who are good communicators can better serve their customers' requirements and answer their questions about purchases. This ability can also assist them in suggesting novel selling techniques that can increase corporate profit. So, if you want to gain a firm foothold in this industry, learn to "talk."
b.Problem-solving
Dealing with actual consumers will inevitably expose you to unexpected issues that need time-based fixes. Therefore, it's crucial to fully comprehend the customer's issue and provide them with rapid, visible, practical, and time-bound answers. This ability also guarantees they prioritize customers' requirements and provide a satisfying and beneficial experience.
c.Time management
Retail sales workers need to have excellent time management skills. The ability to manage customers well while carrying out retail chores depends on your ability to manage your time effectively. If you can complete your responsibilities on time, your productivity will also grow.
d.Organizational skills
Retailers' jobs often require them to stay organized. But why? As a retail store manager or retail sales worker, you might need to keep your business's shelves neatly arranged, replace outdated merchandise with fresh stock, restock the shelves, and other things. As a result, if you lack organizational skills, your professional prospects may suffer.
e.Patience
The secret to dealing with customers is to remain patient. This ability will also assist you in keeping up your relations with customers. Being a salesperson requires patience to respond to customers' questions and requests and their feedback on your goods and services.
Internship
With so many new retail establishments opening, entering the retail business is easy. However, if you obtain some experience as an intern, it will be much simpler to land a respectable position in the actual world of work. Prior to working in the industry as a professional, internships also expose you to the details of the profession. As a result, you gain a specific degree of experience and become adept.
Experience
Experience is important in any line of work. The more retail experience you get, the more options you will have. Significant work experience also adds value to your CV and qualifies you to apply for better brands and positions. If you are looking forward to make a career in retail sales career, explore job openings here.
The Bottomline
So that was our perspective on the steps to a successful career path in the retail industry. This blog covers the essentials of becoming a good retail sales worker. However, advancement in any job is determined by how well you perform. As a result, to shine brightly in your professional field, you must have the necessary skills and knowledge. To discover more about careers in retail sales, visit here.