5 best in-demand online job-oriented courses after 12th
Learn about the 5 best in-demand online courses to pursue after the 12th. Be job-ready with job-oriented online courses. 
Introduction
Choosing a career path after 12th is the most vital decision in our lives. The career path chosen will determine the economic and financial security of an individual throughout their lives. Most people state that getting a dream job is all about the luck factor. A part of the population also believes that fortune and extraordinary talent take careers to greater heights.
While some believes in it, others make their own luck!
The Pathway to a gratifying career involves dedication, passion, and strong will. When you turn your passion into your career, work-life never gets boring. Monday mornings do not let you down when you get the job that you absolutely enjoy. And that is possible!
Take a look into 4 step career planning process
Understanding yourself (identify your passion, interests, and values)
Identifying career choice (Explore various career options that suits your passion)
Undertaking decisions (Compare possible career options/courses available)
Work towards it (After identifying your goal, take action)
Career planning needs can be modified and changed from time to time to ensure continuous learning and growth. The process is not only suitable for the 12th pass but also for graduates and working professionals looking for a career change. It can be revisited from time to time to adapt yourself to the changing working environment. There are a plethora of on-demand online courses that can be taken to start your career path that matches your passion.
Additionally, the skills that are in-demand in the job market can be acquired and developed. This will give a good start to your career. In today's social distancing times, studies and work have switched to 'online-mode'. This situation can be taken as an opportunity to enhance your skill base and be job-ready at the comfort of your home.
Here are some of the top 5 in-demand online courses after 12th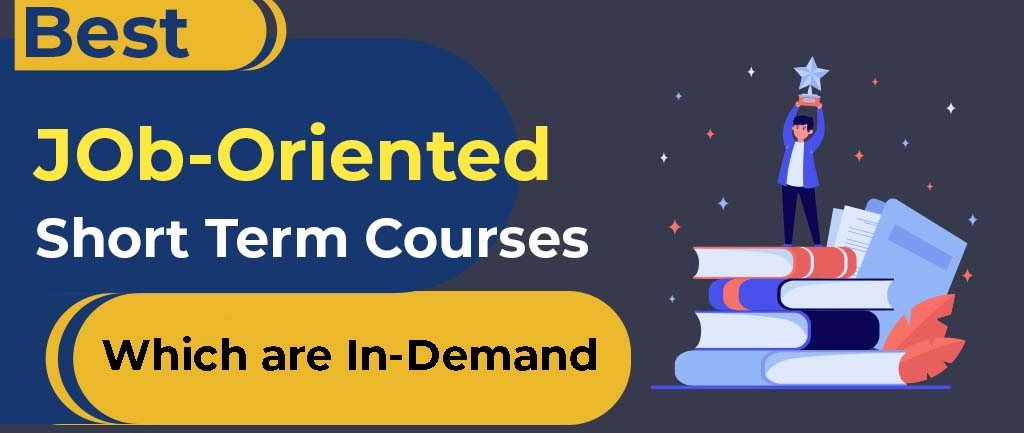 Bachelors of Business Administration (BBA)
BBA is one of the most in-demand online courses to pursue after 12th. If you are ambitious about leading and managing, Bachelor's of Business Administration is the right start. This is the first step towards gaining a leadership position in an organization. This program is also suitable for individuals looking forward to starting their own business. The business management skills will help you build your skills in developing innovative business strategies, generate new skills, and take your business forward. Make sure your choose online courses that ensure industry-embedded modules.
Online Ethical Hacking and Cyber Security
Cyber security skills are the most in-demand job-oriented course in the market today! With increasing cyber risks, ethical hacking skills are gaining importance in the market. In fact, as per estimations, there will be 3.5 million job openings for ethical hacking by next year. With massive job opportunities, this course completely secures your career growth. Moreover, the salary of ethical hacking in the Indian market is quite lucrative
At present, there is a shortage of cyber security skills in the market which makes the market even more attractive to cyber security experts. The majority of the business in today's job market is looking to ethical hackers to protect their business from potential attacks. So, if you are keen on working in the cyber world, this is the best career option for you. Hone your ethical hacking skills and skyrocket your career.
Online Digital Marketing Program
The profitability of business organizations is highly dependent on digital marketing.  Businesses around the globe seek online presence to stay head to head with competitors. Thus, if you are creative and like to explore the online market, this might best online course for you! Look for GoDaddy certified digital marketing certificate to secure your digital marketing career.
Online Web Development and Graphic Designing
We all love visually appealing websites and applications. Don't we? Business organizations is heavily dependent on well-designed websites. Graphic designing and web development are the two most attractive jobs suitable for students after 12th. This is one of the most in-demand skills in the Indian market. Therefore, if you would like to explore your creativity you would surely make an amazing career as a web developer or graphic designer. This is an excellent career choice for you with potential job opportunities. Tell brand stories and sell products and services with innovative visual styles and web pages. Put all your passion and skills to make a steady yet progress-able career.
Online Data science program
Artificial Intelligence & Machine Learning and Big data are buzzwords in the world of technology. If you are tech-savvy and have major interests in AI & ML and big data, this is the right online job-oriented course for you. These are breakthrough technologies that ensure a massive growth rate with immense job opportunities. Acquire in-demand skills in new emerging technologies in the market. Enroll in online data science courses to get trained by industry experts. The course ensures positive productivity and performance outcomes. As per Naukri.com (India's no 1 job site), there are currently 14,000 job openings, and is most likely to increase in the coming years.
Average Salary package offered by top companies in India to data science experts
Amazon: Rs 16 Lac per annum
Flipkart: Rs 13 Lac per annum
Deloitte: Rs 9 Lac per annum
Accenture: Rs 6.3 Lac per annum
Myntra: Rs 8 Lac per annum
Tata Consultancy Services: Rs 4.8 Lac per annum.
IBM: Rs 4.7 Lac per annum
Conclusion
There's nothing more special than finding your passion and aligning your talent to make a profession. Employees enjoy their work when they can utilize their talents to their fullest. Thus, it is advisable to find your passion and caliber after 12th to choose your career path.
There are a plethora of online in-demand courses for you to choose from. Make sure you choose a career path that suits your interests. Start your professional career with online degree programs or short-term online courses to hone your skills. You may check out other career options that suit your career goal.